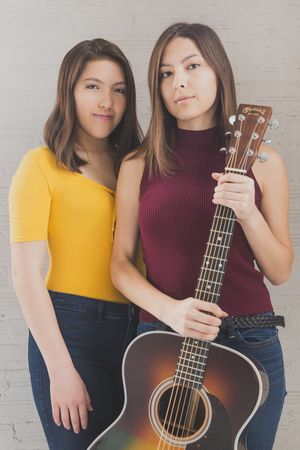 A few words about us
Sisters Phoebe and Jaclyn have been performing together since 2013, playing at festivals, listening rooms and private parties in Michigan. Accompanied by guitar, keyboard and cajon, the Keynote Sisters' sound pulls from influences of pop, folk, and Americana, tied together by their signature knit-tight harmonies. 
Their first CD of covers, Come What May, was recorded in 2016 and all proceeds from sales were donated to the Cure Alzheimer's Fund. The Keynote Sisters are avid songwriters and released their first EP of all original music, Rose Colored Glasses (2019), followed by their debut single, Done and Damned (2021). 
Since spring of 2020, the Keynote Sisters have been hitting the road—literally—with their Driveway Tour, a tour concept created in the early stages of quarantine, amidst the COVID-19 pandemic. Phoebe and Jaclyn have made it their goal to provide safe, socially-distanced private concerts to people all across Metro Detroit, as they perform out of their Tour Van to listeners' front porches, driveways, or open windows. The Driveway Tour made its return in 2021, surpassing 100 stops and bringing live music to hundreds of Michiganders in a time when music is needed more than ever.